Road trips are a great way to have a little time away from home without breaking the bank. With a little bit of planning and research, you can make your road trips even more frugal by learning some tricks to save money on fuel, food, entertainment, and accommodation.
Our best ways to save money on road trips
I went to university far from home and made the trip back and forth many times. If I could find a cheap train ticket, I'd take the train, if not I would drive. Long weekends and time between terms were perfect for taking road trips and exploring other parts of the world.
Now that I'm older and have a permanent job, I still try to take a few long weekend trips to experience new places. And with that, I have managed to acquire many tips and tricks to save as much money as possible!
How To Save Money On Fuel
Petrol/ diesel prices are expected to increase for the 7th month in a row, therefore this is critical to get right when living the frugal life. Some people might try to shy away because of this, but when compared to other means of travel, this can be the more frugal-friendly route.
Note – When traveling alone be sure to check into all possibilities. It will cost more per person for other ways of transportation but for one person it might be the better deal if you do your research.
As mentioned, many people avoid taking road trips because of the price of fuel. Driving might not be cheaper if you're going alone, but the more people you put in your car, the more economical your trip will be. E.g. With a family of five, getting a train anywhere would easily cost £100's, but driving would cost a fraction of that.
Here are some tips to save on petrol:
1. Make sure your car is running properly.
I always check the miles, oil, and tires before a road trip. Did you know that inflated tires make less friction? Less friction means better mileage!! Not only does checking your car keep you safe, but it keeps your car lasting longer and means you will get to your destination with no extra surprises along the way.
So, find out how much a full car service costs, and if you can afford it, get one!
2. Avoid rush hour traffic.
Try to plan your trip using back roads through large cities. Sitting or crawling in bad traffic is a huge waste of fuel (not to mention time and patience). You'll save money and have a much more pleasant trip if you avoid heavy traffic times in big cities. By going back roads you also get to enjoy the scenery. In my opinion, that's the best part of a road trip! My favourite time to travel is early autumn when all the leaves are changing.
3. Use a cheap fuel finding App
Use the Petrol Prices app or petrolprices.com to plan out where to get your petrol while traveling. Use the app or website before you go on your trip to get an idea of the best places to get fuel since prices greatly vary from town to town. You can use the app on the go if easier – Extremely helpful in my opinion.
4. Use cruise control.
Now, this is one I did not enjoy when I was at Uni. I just didn't enjoy not having control over the car! For years I would spend hours with a cramp in my leg! As I have gotten older, however, I have grown more comfortable with cruise control and I have learned that driving at a constant speed is more fuel-efficient. Cruise control will also keep the lead-footed from getting a ticket, saving even more money!!
Food To Bring On A Road Trip To Save Money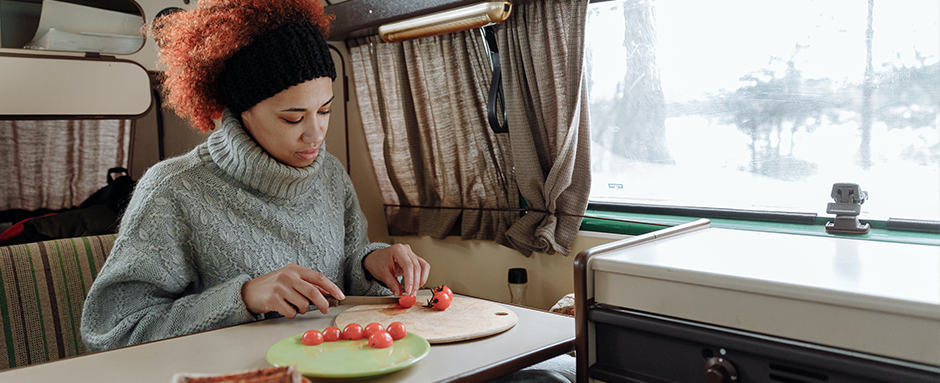 Another big expense on a road trip is food. This one is so hard for me as I love going to new places and experiencing new food. The truth is, eating out while traveling can really put a dent in your spending. Planning ahead and budgeting your food on the trip can really help cut down expenses.
One of the best ways to save on food while traveling is to bring your own. Not only will you save money, but you also save time waiting in long lines leaving more time to explore where you are headed.
Here are some tips for saving on food while traveling:
1. Meal Prep
Prepare the first few meals for your trip at home. I usually make something easy that doesn't need to be cold. I usually pack a good old peanut butter sandwich with some crackers and water (I don't like cold water so this is perfect while traveling).
2. Take Leftover Food
Leftovers are also a great road trip option if you're going to be gone for a while, it will help prevent wasting food, too! Pack a cooler with some ice and put in a few leftovers to heat up once you get there. I recommend finding accommodations with a suite or kitchenette (more on that later)!
3. Bring The Individual Meal Ingredients
Bring the fixings with you! I always bring along some ingredients for the trip home. Like my peanut butter sandwich for the drive, I will make another one before leaving to save from stopping for food along the way. I really enjoy stopping at a rest stop and eating at a picnic table if possible.
4. Bring a variety of snacks.
It is important to remember to bring a variety of snacks along for the long trip. If you only bring chocolate to munch on, you may be tempted to buy something savoury at a rest stop. This curbs spending money on things that you can buy for a fraction of the price at home. Most rest stops have high prices for those impulse buys while traveling.
I buy snack-sized baggies and make a grab-and-go type snack pack. Pretzels, crackers, cookies, and even cereal are great munchies to have on hand. Dividing them up into portions ahead of time saves mess and hassle in the car. It's also cheaper than buying individually packaged items.
5. Bring frozen water bottles.
For those of you who like cold water, having frozen water bottles serves two purposes: 1. You have cold water to drink, and 2. It keeps your other food items cold. No need for ice in the cooler with frozen water bottles.
Free Activities/ Entertainment
Do a little research ahead of time to see if you'll be passing by some free activities on your route. Find interesting sites, historical markers, scenic stop-offs, etc.
This to me is the whole point of having a road trip! It's to stop and see the little places along the way. You'll often find that these are free attractions. Search the local newspapers for events or activities while traveling. This can provide free entertainment and a short break from being buckled up, which is certainly needed if you're travelling with kids.
Saving Money On Accommodation
When I was young, I remember my dad powering through a trip or trading with my older brother halfway through on the really long trips.
Here are some ways to save on accommodation for your road trip:
1. Bring a tent and camp.
I am not one of those outdoorsy people, however, one night of camping is enough for me. I like to pull out the old tent, set it up, and enjoy a night by the fire. Wild camping isn't exactly legal in England, so you will need to be careful where you camp. If you do find a field, try to find who owns it and get the landowner's permission. If you are going to wild camp, you can check out these "loopholes" and tips from Cool Camping. If you are in Scotland, however, it is legal to wild camp.
Even if you pay for a plot on a campsite, it will probably be a lot cheaper than staying in a hotel.
2. Stay with family or friends.
This is the part I love about having a huge family! There is always someone to go visit. When I plan a trip, I try to plan it around stopping by to visit someone I know. This cuts down on expenses massively – even if it means sleeping on a sofa or an air mattress.
3. Find a hotel with a suite.
As mentioned earlier, this allows you to save money on food while traveling. Getting a room with a kitchenette allows you to heat up those leftovers. Even if you do purchase food, I never eat all of it as this allows me to bring it home and eat some later.
I usually leave one night for splurging and trying a top-rated restaurant in the area (top meaning food not price). Sometimes I try to find something particularly known in the area that is recommended by the people who live there.
Are you excited to plan your next road trip? I know I am; this post has certainly got me thinking about where to go. Your road trip can be as frugal as you make it to be. You can set a budget and stick to it while on vacation and still have lots of fun!

James Banerjee is an Account Director who graduated from the University of Kent in 2014. He works in SEO on clients such as HSBC UK and Nestle and he has a keen interest in personal finances and money-saving advice.