I think it is safe to say that the past year has been unique due to the ongoing pandemic, where many are looking to save as much money as possible. Rightly so as there is always that uncertainty of job redundancies hanging over. Luckily, we have many tips for saving money by cutting your expenses.
Here are our top tips for reducing monthly outgoings:
Unplug unused appliances
Adjust the temperate settings on your heating
Reduce the overall temperature of your hot water
Draft proof and air seal doors and windows
DIY
Be a bargain hunter and buy in bulk
Go Vegan
Plan your weekly meals
Reduce the number of takeaways
Cancel unnecessary direct debits
1. Unplug unused appliances
Leaving appliances plugged in will still eat up electricity in the long run, therefore you should consider unplugging those you rarely use. Do you really need to keep that air freshener that you have forgot to change the carton on plugged in? What about that blender that only gets used once a month, or the printer you use once a month?
All these pieces stack up on your electricity bill. By leaving these unplugged you can easily save money on your electricity bill.
2. Adjust the temperate settings on your heating
Another way to easily lower your gas or electric bill is to lower the thermostat for your heating. I know it sounds like Scrooge, but it certainly works. There is a reason why your electric/gas usage spikes in the winter months. So, layer up, leave some blankets or throws in your lounge area, and get cosy. You will soon find yourself being that individual, like me, who wears shorts in winter.
With the rise of portable thermostats, it is also worth noting the location you regularly leave it. Ours was located by the front door which can get quite cold where the rest of the house is warm and it would switch the heating on all the time. Since moving it to the main lounge area we have seen a substantial drop in gas usage. No longer are we faced with the radiators turning on at 0200am.
3. Reduce the overall temperature of your hot water
This tends to be an oversight in homes with a hot water cylinder yet is one of the largest contributors that can help save money on your energy bills as, according to Direct Energy, hot water cylinders account for 17% of a house's total energy use.
Water is typically kept at a much higher temperature than ever needed where a lot of the heat is lost through the environment and uninsulated pipes, meaning by just reducing the overall temperature by several degrees and insulating any bare pipes can provide great savings! What is the point of keeping your water at 80°C when you always mix it with cold water anyway, right?
If you are still using a hot water tank and an older boiler, the UK government is offering Green Home grants to help pay for energy-efficient appliances such as boilers. If you receive certain forms of benefits and/ or fall into a lower income bracket, you may even qualify for a grant to cover the full amount!
4. Draft proof and air seal doors and windows
If you are going to follow the above tips on reducing the temperature of your thermostat and turning down the overall temperature of your water heater, it makes sense to ensure your doors and windows are fully air sealed. This not only stops the cold air get it but also keeps the warmth in for the winter and helps keep the warm air out and the cool air in for summer.
We picked up some self-adhesive foam weather-strips from B&Q for under a tenner and managed to do all the windows and doors with some spare. Failing that, there are many options on Amazon.
5. DIY
A method that I am overly fond of is Do It Yourself. I wanted a sideboard with a specific design to suit our décor, however, they were all £150+. I made a rough design, got a free pallet from an industrial site, bought some varnish and a couple of metal rods for about £30, and built my own.
We also managed to build a new shoe rack from the left-over wood and varnish! There are so many ideas for pallet furniture that can save you money
We have saved a lot of money, gained a lot of experience, and gained a huge sense of satisfaction after completing these little "jobs". The only point to note is that it may take some time, dependent on your knowledge. For everything you do not know, YouTube is your friend.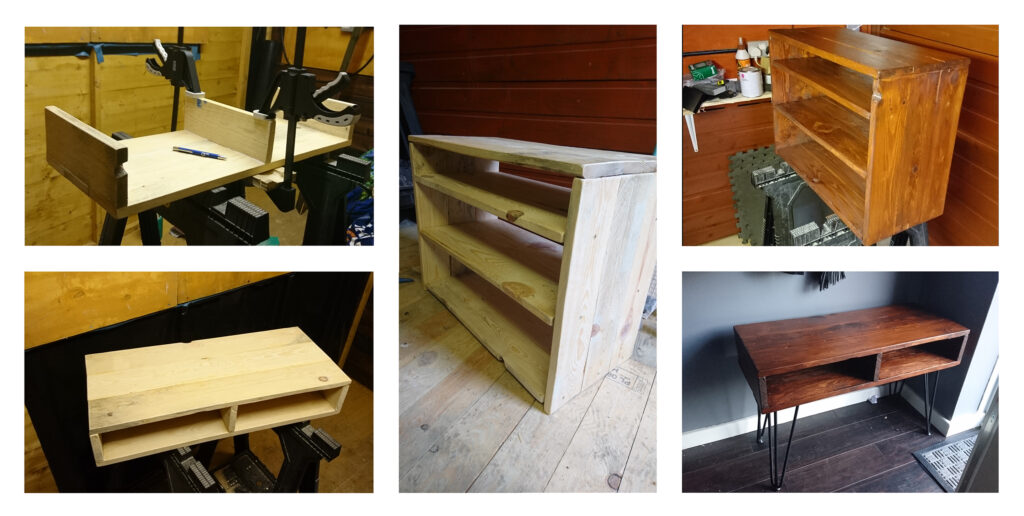 6. Be a bargain hunter and buy in bulk
Do not be afraid to shop around and hunt for those yellow labels. And when you see a good deal, stock up! Anything that can be frozen, freeze! A top tip is to look for a specific household product each month and buy in bulk. By stocking up on items every month you ensure you get the best price for the items. Be sure to check expiration dates to make them last until the next sale.
7. Go vegan
To avoid the whole "vegan pushing an agenda" thing, the reason why I suggest going vegan, even for a couple of days a week, is that it works out much cheaper than eating meat. You can buy large bags of lentils, chickpeas, and rice all for under a fiver and it will last a good week. Still not convinced? Check out our blog post Is going vegan expensive
8. Plan your weekly meals
Keeping to a meal plan is particularly important when saving money. Many people tend to go to the supermarket without a plan and a hungry stomach and buy items they want not items they need. We would do this all the time and would get to making dinner one evening and realising we have a lot of food where nothing went together. Then we would just end up either ordering a takeaway or having an unenjoyable meal.
A great solution to this is to create an Excel (or use Google Sheets, it's free if you do not have access to Microsoft Office) and list off all meals that you enjoy or want to eat, write down the individual items that compose them and add them all to a sheet. Then before you go shopping, pick out the meals you want to eat in a week, add the ingredients to a list, and only buy those.
Pro tip, eat before you go shopping. It really works.
9. Reduce number of takeaways
With the above point in mind, reduce the number of takeaways you have within a month. The biggest method to combat this is by planning your meals, as mentioned above.
Now we are not saying to eliminate them entirely, but to simply delete that "Special offer" email that gets sent what seems like every day from Uber Eats, Just Eat, and Deliveroo. £30 every couple of weeks may not seem like that much when you are in the moment, but over the course of a year that becomes £780.
10. Cancel unnecessary direct debits
Do you really need Netflix, Amazon Prime, Hulu, Disney, Spotify, Youtube Premium, Magazine/ newspaper subscriptions, and so on? You would be surprised how much money you can save just by cutting out just a few of these things.
Most of these subscription services offer multiple user packages, so one option to keep them all is to talk with your family and friends and find out what subscriptions they have and share with each other. This is what we do and have saved about £200 a year alone!

James Banerjee is an Account Director who graduated from the University of Kent in 2014. He works in SEO on clients such as HSBC UK and Nestle and he has a keen interest in personal finances and money-saving advice.