A key aspect of getting out of debt that is often overlooked (and one I, too, find challenging) is keeping the shopping budget in order.
I could (and often did) easily spend £500+ a month on food. But when trying to become debt free, I knew I had to tackle this. It was my biggest expense every month and I hated seeing so much money being spent on it, while the food was also being wasted.
So, I did what I suspect anyone does in this situation – I had a look on YouTube and watched what everyone else was doing. But to be honest, I didn't find many meal planners that I could relate to, and definitely none who had dietary issues (I have smell and texture issues with food).
I needed to come up with a way that worked for everyone. I developed these simple steps, and I hope they help you too.
Work out how much you want to spend
Do a food inventory
Make a list of all meals you enjoy
Look at your schedule for the next week or month
Assign each day a meal
Shop for the ingredients on your meal plan
Start cooking!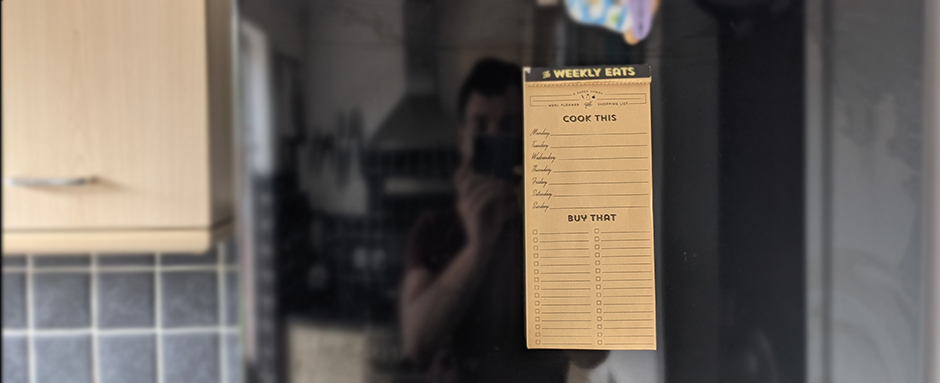 My partner bought the above meal planner that sticks to the fridge and it has been a lifesaver recently! There are many variations on them, so you can find one suited to your style.
1. Work out how much you want to spend
The first thing I did was work out what was an acceptable monthly food budget for us, considering how much I wanted to put towards debt, how much my monthly expenses were, and how much food we normally wasted.
I settled on spending £100 per person, per month. So, £300 a month. Over time I have managed to get this lower but you should just concentrate on spending £20 less than you were each month.
This may be more or less than what other people are spending for their families, but as long as it's less than what YOU have been spending, that's all you need to think about. There will always be people spending less than you, but comparisons don't help anyone.
2. Do an inventory
To avoid food waste, I always try and start by using up what is already in the cupboards, pantry, fridge, and freezer before. Not only does this avoid food waste but it saves you money too. I go through the kitchen and write down every bit of food that I have.
3. Write a list of as many meals as you can think of
The next thing I did was to write down on paper as many meals as I could think of that I knew everyone in the family liked. I was aiming for 20 but ended up with 30. When doing this, you want to refer to the Inventory you did, starting with meals you can make from what you have on this list.
This may be something that you need to leave and come back to throughout the day, as I found it quite hard to think of 20 meals just off the top of my head.
4. Look at your schedule for the month/week.
When meal planning, it's essential to take into account what you are going to be doing for the month/week. On the nights when you are working late, you don't want to have planned a meal that takes 45 minutes to cook. What I do is make the quickest meals on the nights when I get home late and make the meals that need more time on my days off, or when I finish work early.
5. Assign each day a meal
To make this as easy as possible, I make most meals stretch 2 days, so I only have to make 4 meals a week. Any leftovers can be assigned to the days when you don't get home until late and need to nuke something in the microwave.
For example, you could make a Chilli on Monday and have it with rice. Then on Wednesday you could get home from work at 10pm and heat it up in the microwave with a jacket potato and dinner will be ready in less than 10 minutes. Or you can make fish pie on Tuesday and use it to make fishcakes on Thursday.
6. Go shopping
Don't be afraid to tweak your meal plan slightly if you see good deals. If you planned to make a roast chicken on a Sunday but once you get to the supermarket you find that Turkey is on offer for cheaper, it makes sense to change it. If you planned to have white potatoes but find that sweet potatoes are on offer and work out cheaper, get them instead.
7. Cook your meals
This may be the obvious last step, but – Once you have your plan and meal list sorted, you can start cooking and, ultimately, start reducing your monthly outgoings!
What is batch cooking?
Another way that you could help yourself when it comes to super quick meals, is to batch cook.
Batch cooking is where you cook extra food portions and then freeze them for a later date. This means you'll always have homemade 'ready meals' available. You can also do this with parts of meals, like homemade chicken nuggets. I do this quite a lot when making our low cost vegan meals but need to restock my freezer as I've been slacking on this recently!
My favourite meals to batch cook are:
Chilli
Spaghetti Bolognese
Lasagne
Curry
Stews
Hotpot
Nut loaf
Apple crumble
The main thing to remember with batch cooking is to cook, cool, freeze, and reheat. Foods like rice can be tricky when cooling and reheating, so make sure you know the guidelines around items like these. You can learn more about this on the food safety standards website.
After you have made your meal plan, maybe you should consider having your coffee deliveries planned, too. Check out the amazing packages from Batch Coffee here!

Sharne is an HR and Office Administrator with a degree in Classical & Archaeological studies. She has a passion for dogs and loves to share money management tricks in her spare time!