For many, dinner is an important part of the daily routine. Not only is it an opportunity to top up the nutrition and energy we require to function, but it also tends to be the time that we start to wind down from the day. However, if you are anything like me and are new to veganism, it can be hard to decide on what to make – especially if you are trying to keep to a budget.
Being a vegan does not have to be expensive, and to prove it, here are five cheap vegan dinner ideas that are healthy, tasty, and cost-effective. If you or your family members are not a fan of Veganism, you can always add meat to each of the below and it will still taste great.
The ingredients mentioned below can all be found cheaply in any run-of-the-mill supermarket, where our prices are based on Asda. We have also assumed that you have basic ingredients such as herbs, oil, stock cubes, and salt and pepper.
Our top five cheap vegan dinner ideas
1. Vegan chilli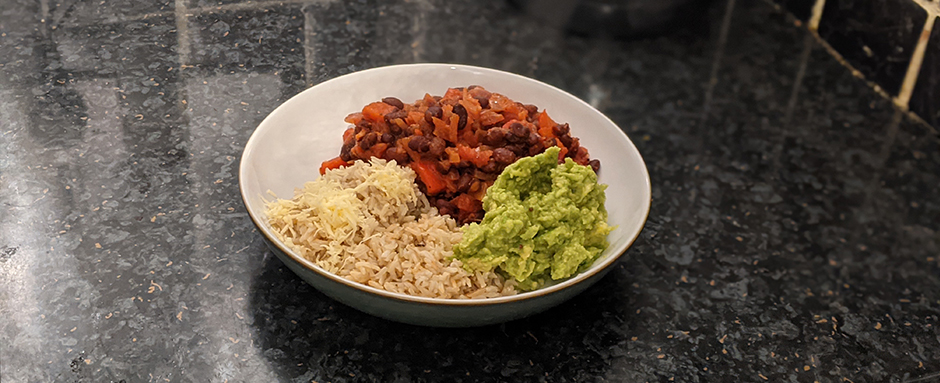 Cost: £4.11
Serves: 2 – 3 People
Chilli is such a versatile dish, where many of the ingredients can be substituted and you can pair it with different carbs for variety. You can put it in a wrap with some guacamole for burritos, add it to some taco shells and top with a cheese alternative for tacos, dish it out on top of some tortilla chips for nachos, or just serve with rice with a few slices of avocado on top.
Chilli also works well as leftovers the next day – once cool, store in an airtight container and pop in the fridge.
Below is an example of a basic recipe we use. The spice measurements can be adjusted based on your preferences. If you have a fajita/Cajun spice mix you can just use that instead of the individual spices!
Ingredients:
Tin of black beans (drained) – 0.50p
Tin of chopped tomatoes – 0.35p
4 garlic cloves (crushed) – 0.32p
1 large onion, chopped (red or white) – 0.20p
1 large pepper, finely diced or sliced – 0.45p
2 x Chillies – 0.45p
Rice – 0.89p
Avocado – 0.95p
Smoked paprika (teaspoon)
Ground cumin (a quarter of a teaspoon)
Parsley (half teaspoon)
Salt and pepper to taste
Method
In a big pot on the hob – add a splash of your preferred oil, heat on medium flame and add the chopped onions, cook for a few minutes.
If you are having rice with your chilli, start cooking this in a separate saucepan with water.
Add pepper cook for a few minutes
Add the garlic and chillies, cook for a further minute
Add spices, including salt & pepper – stir, cook on low for a few minutes
Add the drained beans and tin of tomatoes – stir
Bring to boil then turn the heat right down and leave to simmer for around 10 mins, stirring occasionally until the liquid from the tinned tomatoes reduces and the vegetables/beans are soft (amount of time it takes may vary depending on the intensity of your hob).
Taste and add some salt/pepper if needed
Serve with rice/ wraps
2. Lentil Bolognese
Costs: £4.05
Serves: 3 – 4
Lentil Bolognese is both healthy and filling, and any leftovers can be stored in the fridge/freezer – making it an ideal recipe for meal prepping. We often make a large batch of the Bolognese, serve it into Tupperware, and put it in the freezer. We then take one of the tubs from the freezer and boil some pasta every other day for our lunches all the while we are still working from home.
Ingredients
1 stick of celery (finely chopped) – 0.30
One large onion (finely diced) – 0.20p
2 medium carrots (peeled and chopped) – 0.33p
175g of mushrooms (sliced) – 0.60p
380g red lentils (rinse prior to cooking) – £1.10
Tin of chopped tomatoes – 0.35p
Spaghetti pasta – 0.45p
1 teaspoon tomato puree – 0.27p
1 chilli – 0.45p
Water
Stock cube
1 teaspoon dried oregano,
Half teaspoon basil,
Salt and pepper to taste.
Method
Mix the stock cube with 500ml boiled water, add lentils to a saucepan and cover with the majority of the stock water (saving some for later), partially cook for 5-10 minutes.
In another large pot, put it on medium flame and pour a small amount of oil into it. Once the oil is hot, add onion, celery, and carrot and cook until partially soft, occasionally stirring.
Add mushrooms, cook for about 2 minutes until soft.
Add the chopped tomatoes, tomato puree, oregano, basil, and chilli
Add boiling water to a pot and start cooking the pack of spaghetti
Add the partially cooked lentils and the rest of the reserved stock water (not the water used to cook the lentils) and salt and pepper into the large pot and simmer on low heat for 10 minutes, stirring occasionally.
Add 1 or 2 spoonfuls of pasta water, stir and cook for a further 5 minutes.
Drain the pasta once it is cooked to your liking then serve
3. Pesto Risotto
You may have seen the word pesto and instantly gone "Pesto contains parmesan, that's not vegan!" and you would have been right to think that! However, there are now many different vegan pesto's that taste just a good, if not better, than the real deal.
This is a very filling meal, perfect for those cold winter nights!
Cost: £4.71
Serves: 2 – 3 People
Ingredients
1 large white onion (diced) – 0.20p
200g of arborio rice – £1.40
3 crushed garlic cloves – 0.32p
4 tablespoons vegan pesto – £1.49
80g chestnut mushrooms (sliced) – 0.80p
150g broccoli – 0.50p
Vegetable cube dissolved in 750ml boiled water,
1 teaspoon parsley
Salt & pepper to taste.
Method
In a saucepan, heat some oil on medium-low heat. Once the oil is hot, add chopped onion and cook for 2 minutes, then add garlic, stir and cook for a further minute.
Add mushrooms, cook until softened.
Add parsley, salt, and pepper. Turn heat down to low.
Stir in arborio rice and cook for 30 seconds.
Add a ladle of the stock water and stir until liquid is nearly all absorbed, then gradually add another ladle of stock water and stir – repeat until rice is soft and creamy about 20 minutes.
Whilst the risotto is cooking, start cooking the broccoli (boil or steam)
Once the rice is soft, add pesto and mix well.
Add salt and pepper to taste if required and cook for 3 more minutes
Serve
4. Greek salad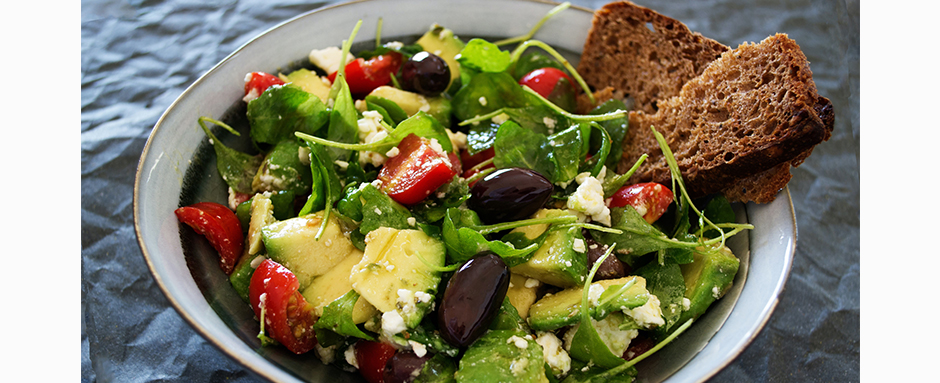 A good recipe for those summer evenings when you fancy something light and refreshing. The Vegan feta cheese is very much a "you either love it or you hate it" case – I love it, my partner hates it. Just like marmite, you must try it to find out for yourself!
Cost: £6.41
Serves: 3 – 4 People
Ingredients
One cucumber (either dice or thinly slice) – 0.32p
One green bell pepper (deseeded and finely sliced) – 0.45p
400g halved cherry tomatoes – 0.65p
Violife Greek White Block Feta cheese alternative – £2.50
Half of a red onion (sliced) – 0.20p
Salad leaves – 0.45p
80g Kalamata olive – £1.20
Vinaigrette – 0.65p
Salt and pepper
Method
In a large bowl, add all of the salad ingredients
Cube the Feta cheese and add
Sprinkle the dressing over and lightly toss together.
Add salt and pepper if needed
Serve
5. Creamy mushroom pasta
Cost: £3.51
Serves: 3 – 4 People
For me, pasta is the ultimate comfort food. Not only is this pasta dish quick to make, but it is very creamy due to the coconut milk! This dish goes well with garlic bread if you have any but is just as nice on its own.
Ingredients
One White onion (finely chopped) 0.20p
3 garlic cloves (crushed) 0.32p
250g sliced mushrooms – 0.60p
Half a can of coconut milk – 0.69p
250g penne pasta – 0.45p
Few florets of broccoli – 0.50p
Two teaspoons of mixed herbs – 0.30
2 tablespoons plain flour – 0.45
Stock cube dissolved in 100ml boiling water
Salt and pepper
Method
Start cooking the pasta in a separate saucepan.
In a separate large saucepan, heat some oil on medium-low heat and add onions once the oil is hot.
Once onions are softened, add mushrooms, garlic, herbs, and some salt & pepper.
Cook until mushrooms are softened, stirring occasionally as needed.
Add in flour and stir to evenly cover mushrooms, fry for around 30 seconds– may need to add a small splash of stock if starts to stick.
Add half a can of coconut milk, stir to combine, then add vegetable stock and stir continuously until the mixture starts to simmer.
Turn down heat to low and cook for about 10 minutes or until mixture thickens to desired consistency, stirring occasionally. If the mixture becomes too thick, add in some pasta water.
Add broccoli to pasta saucepan and cook until soft (a few minutes).
Once cooked, combine the pasta and broccoli with the vegetables and stir through.
Add salt and pepper to taste if desired, then serve.
I hope you found a recipe you like the look of on this list! If you would like to know the calorie count of each meal, you can use the NHS calculator here to figure that out!

Sharne is an HR and Office Administrator with a degree in Classical & Archaeological studies. She has a passion for dogs and loves to share money management tricks in her spare time!