Most of us will learn to drive at some point in our lives. It is estimated that from 2018, 75% of the adult population (aged over 17) held a full driver's license – this is up from the 48% in 1976. Naturally, this means that the car industry has evolved to coincide with the new demand.
We have a few top tips to remember when buying your first car:
Pick a brand suited to your taste – Do you research
Pick a model suited to your insurance
Never settle on the first price
Take someone who knows about cars with you
Think about things before blindly agreeing
Look at other expenses
Look at fuel economy
Consider payment options
Take a test drive
Be cautious of private sellers
Pick a brand suited to your tastes – Do your research
Everyone has different tastes and different financial situations. Many parents may offer to buy your first car if you start driving young, however, this may not be feasible for everyone. You'll be potentially spending a lot of time in the car and a lot of money on the car so you must ensure its somewhere that you're happy to be.
Please be sure to thoroughly research the benefits and costs of each car brand and to flick through the model's reviews, as all cars will have their issues, but some are more brand-specific and prominent than others.
Pick a model suited to your insurance
When looking at different cars, it is sensible to get a quote for each car that you're considering. This is especially important as there are many factors to consider when choosing a car insurance policy.
The best places to get insurance quotes are from comparison sites as they give you a more varied response. We use CompareTheMarket and MoneySupermarket as they compare a variety of suppliers – plus with CompareTheMarket, they offer you rewards if you take a policy from their search.
Don't forget that some insurers, such as Direct Line and Aviva, aren't on price comparison websites, but they too have good policies that are worth considering.
Whilst researching the different providers, be sure to read our article explaining how you can save money on your car insurance.
Never settle on the first price
This is true for any situation; if you buy privately you should always go in with some negotiation as many sellers will be willing to take a lower price for a faster and convenient sale. It is sometimes advised to pay in cash if you can because sellers are more likely to take a lower offer.
This is the same for dealerships – the salesperson is often paid on commission for cars and if you negotiate with them, they may reduce the price or give you a better package deal to seal the sale.
Take someone with you
Always take someone with you if you are viewing a private seller's car. This is sensible for safety precaution. It also means that you have an objective view to stop yourself from rushing into anything.
It is preferable to take someone with some motoring experience – many driving instructors will do this, as well as family members, colleagues, and friends. Having two pairs of eyes in any situation is better than one, plus your companion's more likely to remember some of the terms and conditions. We advise you to take a pen and paper!
Think about things before blindly agreeing
If you're buying from new, you can buy online from the particular brand that you're interested in and have a 14-day cooling-off period where you can decide whether or not the car is to your tastes and as long as you don't cause any damage or add too much mileage (normally around 100 miles).
Similarly, if you go to view a car or a dealership, go, see but come back and think logistically. This allows the hype of just wanting any car to pass and allows you to think carefully about this massive investment.
Think about what you're using the car for and how long you expect to use it. It may be a better investment to pay more for a car that will last you in the long term, equally, if you are planning to go to university it may be better to buy a cheaper car that you will only use for the short term.
The last thing you want to do is buy a car that you end up paying more for in repairs than it's actually worth.
Look at other expenses
Consider insurance and road tax, as older cars and those that are less carbon positive will have a higher car tax. And if you're driving in London, buying an eco-friendly car is essential due to the clean air tax. If possible, it is advisable to not buy a car if you're living in London.
Also, consider how much fuel will cost, whether it's petrol or diesel, how new or well maintained the appliances are, such as air conditioning, window wipers, demisters, and all the external lights. Be sure to check when it last had a full car service.
A crucial thing to look at is the mileage of the car – the lower the mileage the better, however, certain cars deal with more mileage than others. Volkswagens, Hyundai, Toyota all handle mileage well, but it also depends on how well the cars been looked after. Cars with the least owners may also be preferable.
Look at fuel economy
Make sure to assess where you will be driving. If you do long motorway or steady journeys across the country then your fuel economy will be much better, however, driving across towns (urban driving) means you will use more gallons per mile due to the continuous changing of gears.
A better fuel economy means that you will spend less on fuel. Fuel economy will also depend on the smoothness of the driver, so in order to cut costs make sure to just timings and gears well!
Consider the payment options
Nowadays, there are many ways to finance a car. As mentioned earlier, if you are buying a car outright and have the cash to do so, some sellers will be more willing to negotiate on the price. However, feel no obligation to do that, it may be better through a debit or credit card payment.
Other available options are finance or leasing. Finance is often available on both new and second-hand cars, where most dealerships offer this service. Effectively you pay a certain pre-fixed fee to buy and have use of the car until the period of borrowing (often two years) is completed, in which you would become the owner of the car. You will often be presented with the opportunity to upgrade your car or to keep the one you have paid off, and this is beneficial to those who don't have the funds outright but have the fund to make monthly payments.
You will have a credit check and your contract will be based on your ability to make payments – missed payments may cause your car to be confiscated. Due to the interest on financing, you will end up paying more for the car, often more than market value, however, you have the added convenience of time and these contracts often come with benefits, such as free MOT.
Leasing is another option where you lease the car for a fee, but you are never the owner, just the keeper. This is good if you are keen on the flashiest cars! Also, by leasing, anything that goes wrong is generally solved by the dealership. This is often only applicable to new cars and there will be terms and conditions, such as the fact you would be restricted to a certain mileage and going over that would incur payment, and any damages would have to be paid for.
Read our comparison of leasing and buying a car here.
Take a test drive
Kind of a no brainer, but, always do a test drive. This allows you to get a feel for the car and feel how comfortable you will be driving it. According to the Independent, average Britons spend 293 hours a year in the car, so you must ensure it is somewhere you want to be. Also, certain cars will be more tailored to certain people. Such as whether it is an automatic or manual gearbox or its durability in poor conditions for outdoorsy (or horsey people).
If you cannot legally drive yourself, get a companion to take a test drive. Even if you can drive, it is advisable for both parties to have a test drive as one of you may pick up something that the other hadn't.
Be cautious of private sellers
Whilst there will be strangers that will genuinely care about being honest in their adverts, it is easy to find something too good to be true. If you are going to buy privately, we recommend looking through the AA website or Autotrader as sellers will be vetted to make sure they aren't falsely advertising.
Unfortunately, some people will miss-sell cars to make a quick profit, often making the vehicle unsafe or finding a way to mask problems that will turn costly later.
My experience:
In 2018 I bought a 2006 Peugeot 207 which I named Percy, Percy had a mileage of just under 100k when I bought him, which was rather high. However, for an older car, the fuel economy is decent, especially considering that I do mostly urban driving. It is also an easy car to just put petrol in and go, and with this, I know that I can trust him to do long journeys, such as when I drive up to Yorkshire or Wales visiting family.
As I was discussing earlier, I am one of the car buyers that looked for a cheap run around – being a student, that was essential. I paid £600 for the car, £400 for general repairs and maintenance, as well as high insurance as a new driver. However, a year later and my having a one years no claims bonus under my belt meant that my renewal was significantly cheaper.
If you have any questions, please get in touch and we will answer them accordingly!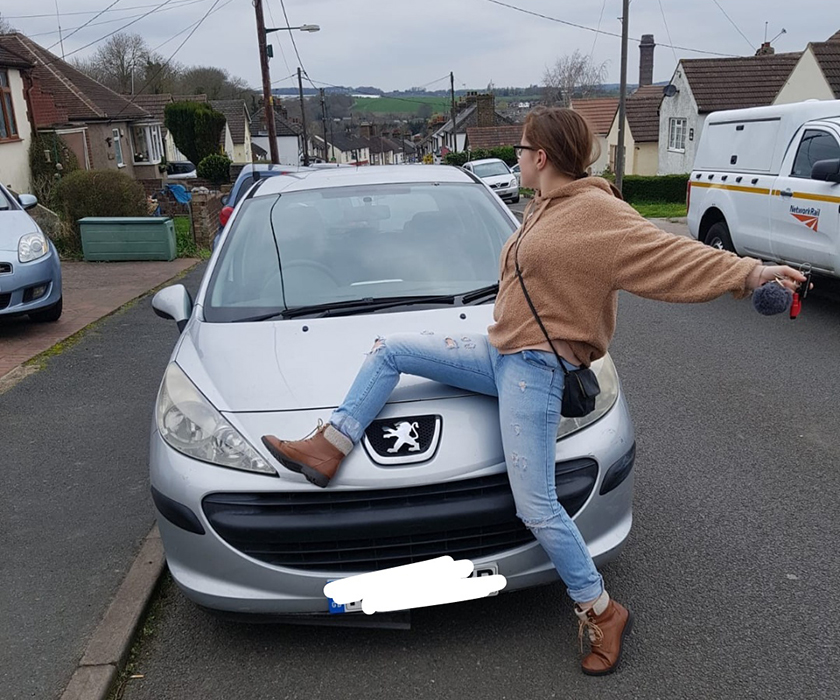 Sharne is an HR and Office Administrator with a degree in Classical & Archaeological studies. She has a passion for dogs and loves to share money management tricks in her spare time!