It may not seem like the right time to start a dog walking business due to most people being home due to the pandemic, however, this is the perfect time to start planning and getting ready for when the world goes back to work.
Also, according to the Independent, there has been a huge increase in dog adoption. This is only a good thing as when everyone does go back to work, they will be looking for dog walkers – aka. YOU!
Before you jump right in, ask yourself if this will be just a side gig or your main source of income. If it is your main income source, you will need more clients than if it is just a side hustle. Keep in mind it will take time to build up a reputation and client base, so you may not be able to rely on it as your main source of income when you first start out.
With that said, here are the steps to set up starting your dog walking business:
Take dog walking and pet welfare courses
Figure out where you will operate
Check local authority restrictions
Decide on your working hours
Set your policies
Decide how many dogs you can handle
Decide on your prices
Set up your business with HMRC
Get dog walking insurance
Market your business
Get to know your clients
1. Take dog walking and pet welfare courses
Read through the dog walker's guidelines, put together by Dogs Trust, Pet Industry Federation (PIF), RSPA, and our general dog walking tips.
Two courses I would recommend are:
Emergency first aid for dog's course – again, always better to be safe than sorry.
City & Guilds offer a Level 2 Certificate of Technical Competence in Dog Walking.
You can also take a dog training course, or a dog behaviour course if you like. This can help you stand out to potential clients and may also give you some more experience and/or confidence.
What qualifications does a dog walker need?
There are no set qualifications that you need to be a dog walker. However, by taking a dog first aid course and the level 2 certificate of technical competence in dog walking, you will certainly stand out from the crowd. You should also pair these with other general animal welfare courses.
2. Figure out where you will operate
Will you operate locally, or will you cover a larger area? Both options have advantages and disadvantages. A larger area may mean more clients, but you will likely need a car to get around to them all, which is an additional cost.
If you are planning on transporting dogs in your car, you will also need to ensure you have the space/equipment in your car to do so safely. If operating locally, ensure there are suitable locations nearby where you can walk dogs (green spaces such as parks/woods, etc.). A walk around the block probably will not be enough exercise for most dogs and is not that interesting for them either.
3. Check local authority restrictions
Check out the local authority's website in the area you will be walking dogs in. They may have specific laws or restrictions on dogs (e.g. where they can be walked, where they need to be on a lead, how many can be walked at once etc.). Some, but not all, local authorities also require people who run dog walking businesses (in that they take payment for exercising dogs) to be licensed. Their website will advise if this is the case and will also advise how to apply for the license.
Do I need a dog walking license in the UK?
There are some local authorities that require you to have a dog walking license in the UK. To find out if the area you want to operate requires one, you should check their website or call them. They will advise if this is the case and will also advise how to apply for the license.
You can see an example of this here.
4. Decide on your working hours
Will you work weekdays/weekends, in the evenings/ afternoons/ mornings? What is your cut off time? Will you work on bank holidays?
5. Set your policies
How you will be contacted by clients/potential clients? E.g. via phone, social media, email, etc.
Will you pick the dog/s up at home? On foot or by car? Will the owners be home, or will you need their keys? If they have a security system, you will also need to know the code.
Will you let the dog off lead if the client requests it? If so, consider the risks and take steps to reduce them – e.g. ensure the dog has good recall, ask the client to sign a waiver confirming that they are aware of the risks, check if your insurance covers loss of dogs, only let dogs off lead when in an enclosed area, etc.
6. How many dogs can you handle?
This is not just how many leads you can hold at a time. As well as holding the dog's lead, you need to be able to pick up after them, play with them/give them attention, maybe take a photo of them for the owner and you need to be able to deal with certain situations that may arise.
For example, a dog might suddenly lurch unexpectedly (e.g. if they see a fox), causing you to drop their lead and they may run after the fox, or another dog might get aggressive with the dog/s you are walking.
Think about how you would deal with these situations – and then how you would deal with them whilst also keeping an eye on any other dogs you are looking after. You will need to consider your experience, strength, what you are comfortable with, and each dog's individual needs/ personality.
7. How much to charge for dog walking
This varies and can depend on location, demand, time spent walking, your experience, and your reputation amongst other things. I have seen prices range from £7.00 for half an hour, up to £25.00 for 1 hour.
Again, it's useful to research how much other dog walkers in the area charge – you don't want to charge significantly more (as may struggle to get clients) or less (as potential clients may wonder why you are so much cheaper and be put off). You will usually find you can charge more in larger cities, such as London.
Will you offer longer walks if needed for an additional cost? It is a good idea to offer 2 options for walks – both a shorter walk and a longer one e.g. 30 minutes and 1 hour.
Once you've got your prices figured out, you might want to look into setting up a separate bank account for your earnings. It's easier to separate your earnings if you open a business account for your dog walking business – and it can be helpful when it comes to figuring out things like income tax. It's not too difficult, and something that should be handled early on.
8. Set up your business with HMRC
If you make more than £1,000 in a tax year from your dog walking business, you will need to register with HMRC as self-employed (even if it is only a side gig). This is because you need to pay taxes on your income. If your income is below your tax-free personal allowance (in the 2020/21 tax year, most people can earn £12,500 before having to pay tax on their income), you may not need to pay tax on the income, but you do still need to declare it to HMRC.
9. What insurance do I need for dog walking business?
You do not legally need any insurance for a dog walking business unless you employ someone. However, you should certainly consider Public liability insurance. Public liability insurance protects you against claims arising from property damage or accidental injury of members of the public. The second point is the one to highlight there.
If you run a dog walking business that employs others, it is a legal requirement to have employer's liability insurance.
What does professional dog walker insurance cover?
You can also get professional dog walker insurance, not to be confused with pet insurance. Public liability insurance is usually included in this, and you will also be covered for additional things (depending on the level of cover) such as 'lost key cover' (if you lose your clients keys), cover for damaged/lost equipment, and cover for accidents/injury/loss of an animal.
Do I need to let my car insurance provider know?
If you will be using your/van car to transport dogs in, this will need to be declared to your car insurance provider. Your current provider may not cover you for this, so you might need to look for an alternative cover.
How to get dog walking insurance
It is very easy to get dog walking business insurance as it is with most. You can get dog walking insurance through one of the main aggregators, such as Compare The Market, or can go direct to one of the below providers:
Petplan Sanctuary
Protectivity
Cliverton
Pet Business Insurance
Simply Business
10. How to market a dog walking business
How will you advertise? Consider what method/s would work best for you and your location (consider the associated costs, ease, effectiveness, etc.). It is probably best to combine a few methods for maximum effectiveness.
You could market your dog walking business by:
Word of mouth
Hanging up flyers
Leaving business cards in local businesses – especially animal-related ones such as vets and dog groomers
Advertising on social media
Signing up to a job board/listing site
Setting up your own website
Consider setting up your own website, this doesn't have to be extravagant, just something that lists your prices, hours, how to contact you, your specialties/experience (for example that you have full insurance, have training in emergency pet first aid, only walk dogs one on one, etc.).
11. Get to know your clients
How many dogs does the client have – if more than 1, do they want them walked together or separately? Ask your client about their dog's behaviours – e.g. are they aggressive towards other dogs, do they have poor recall (and so shouldn't be let them off the lead), do they have a strong prey drive (and so will chase after every cat, squirrel, and rabbit they see or smell).
You will also need to ask whether the dog has any medical conditions that you should be aware of.
Depending on their behaviours, you may need to amend where you walk the dog/ how you handle them. Also, consider how active the dog is – certain breeds need more exercise than others. Will a quick run around the local park be sufficient, or will they need a more extensive walk to burn off excess energy.
Have a meet and greet with new clients and their dog, so the dog can familiarise itself with you and you with them (and so your client can get to know you a bit as well).
Consider joining the client on a short walk – you'll see how they handle the dog and also see first-hand how the dog behaves, how good their recall is, what treats they have, whether they like to play/ fetch whilst on a walk or sniff around, whether they like to swim/play in the water (and whether the client is happy for them to do so).
So, now you know what you need to do to start your dog walking business! Remember, there's no better time to start than now!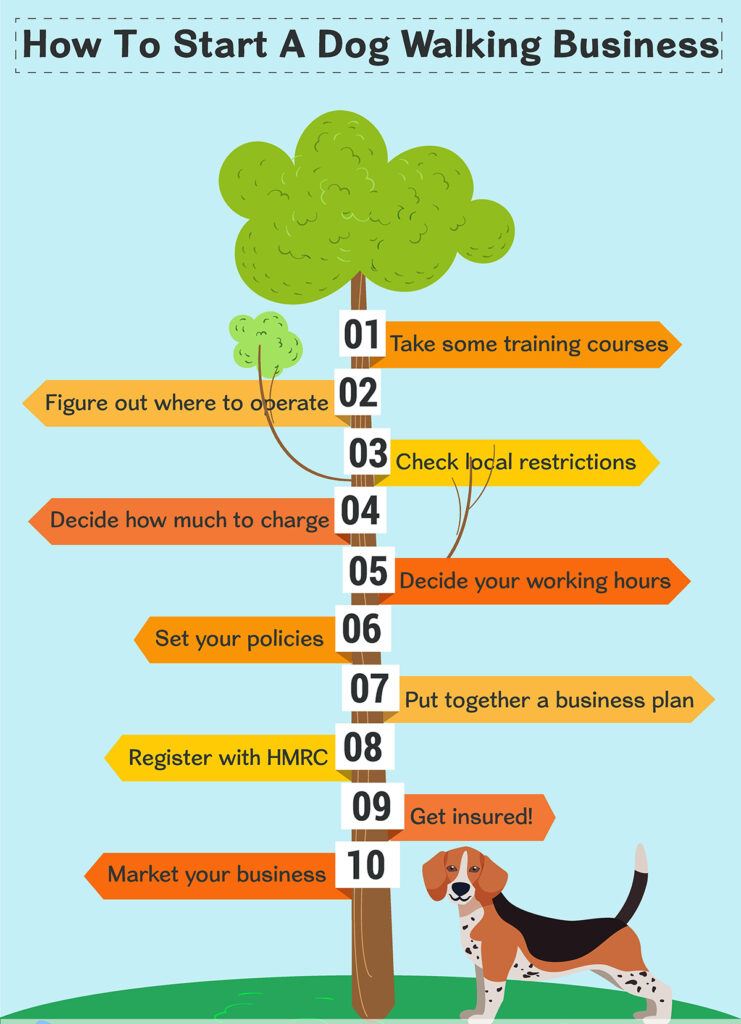 FAQs
Do I need a dog walking license UK?
Some local authorities require people who run dog walking businesses to be licensed. Their website will advise if this is the case and will also advise how to apply for the license.
How many dogs can you walk at once?
How many dogs you can walk at once will depend on the local authority in the area you plan to operate. Most authorities usually advice a maximum of 4 at a time and many insurance policies cover up to 6 at a time. You should also note that some clients may not want their dog walked with other dogs. This could be because their dog is aggressive or scared of other dogs, or they may just want their dog to have your full attention whilst on a walk.
How to get dog walking insurance
You can get dog walking insurance by applying for Business and Public Liability insurance as you will effectively be running your own company. You can purchase this from many places, such as Boughtbymany, Protectivity, or by using a comparison site (e.g. Comparethemarket, Gocompare, etc.)

Sharne is an HR and Office Administrator with a degree in Classical & Archaeological studies. She has a passion for dogs and loves to share money management tricks in her spare time!